PRODUCTS
Bus Passenger Counter

※Available only in Japan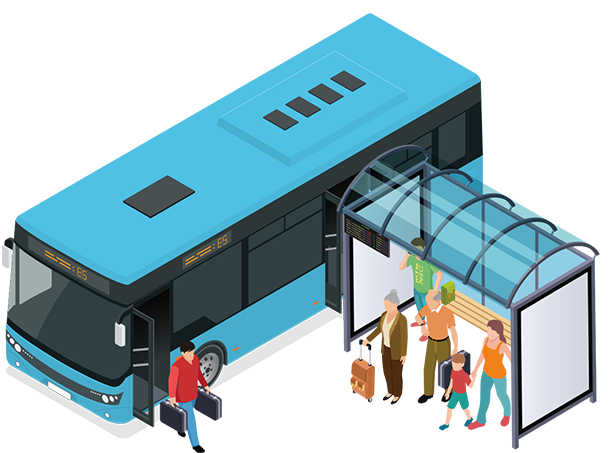 The compact BUS PASSENGER COUNTER sensor provides high counting performance achieved by using the same image processing technology used for our people counting sensors.

Horizontal beam sensor systems are generally used to count bus passengers, however, often misses passengers that overlap or counts luggage or other objects affecting the overall accuracy. Also, with the increase of non-step (low floor) buses, more passengers tend to stand near the door especially for crowded buses which in turn increases counting errors.

The BUS PASSENGER COUNTER sensor solves these problems and provides highly accurate and reliable counting.
The sensor, a monocular camera, is compact, making it easy to install in areas with limited space. Our unique image processing technology is able to eliminate the impact of changes in brightness and enables stable and accurate counting of individuals even inside the bus.
The sensor is resistant to vibrations and power supply fluctuations that occur on buses.
Features
Separate counting of passengers boarding and alighting
Sensors installed at the front and rear doors count passengers boarding and alighting in different directions, allowing simultaneous boarding and alighting to be monitored.
Counts two passengers at simultaneously
A single sensor can be used for wide doors where two people get on and off at the same time.
Stable, high accuracy of more than 95%
Accuracy is based on average accuracy of an actual vehicle count (in our recommended environment).
*Note: Accuracy may vary depending on the installed environment and boarding/alighting conditions.
Camera image output is available to connect to a video event data recorder to view or record the surroundings near the middle door (rear door), which is difficult to see.
Detection and Counting

Sensor Installation

The bus controller and on-board device are connected, and the passenger count is recorded by the on-board device.
What does the sensor do?

The sensor is designed to count the number of bus passengers getting on or off.

All passengers are counted regardless of their payment method (cash, commuter pass, welfare ticket, or discount ticket).

What is the data used for?

It allows you to keep track of bus usage and congestion. You can see how many people get on and off at each stop, what time of day, which routes, and which sections are crowded, and use this information to optimize the schedule.

What kind of sensor is used?

The sensor (camera) is mounted on the ceiling of the bus at the entrance and exit. It is small and unobtrusive, and easy to install. A single sensor can count boarding and alighting separately.

What is the performance and accuracy?

Counts even in congested conditions and during the night.

A single sensor can count wide doors. Counts boarding and alighting separately even when alighting and boarding passengers pass each other at the same time.

What are the components required for the system?

It is a simple device consisting of two sensors and a bus controller.

Is it necessary for drivers to operate the count sensor?

The count sensor operates immediately when the power is turned on. There is no need to operate or set up the device, so there is no burden on the driver.